Home > Stallion Showcase > Cantab Hall
Stallion |
Sire of the Stallion
|
Dam of the Stallion
|
Crosses of Gold
|
Yearling Sales Results
|
Hypothetical Matings
Top Performers:
Current Year
|
Prior Year
|
All Time
CANTAB HALL
T, 2,1:56.1m; 3,1:54.0m ($ 1,442,303)
Bay Horse. Foaled 2001.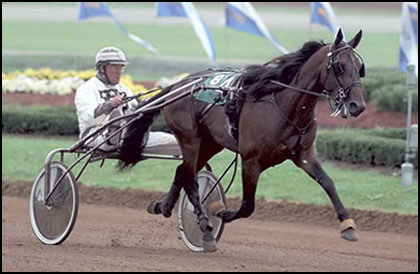 2021 Stud Fee: $15,000
Cantab Hall Pedigree
For more information about Cantab Hall, visit http://www.hanoverpa.com/cantab_hall.html
Year
Age
Starts
1st
2nd
3rd
Earnings
2003
2
10
10
0
0
$ 461,337
2004
3
13
4
5
2
$ 980,966

---

$ 1,442,303

Pathway Customer?
click here to purchase
extended racelines infomation.
$$ A charge applies
Voted Trotter of the Year and Dan Patch, Nova 2-Year-Old Trotting Colt of the Year in 2003. At 2, winner elim. and Final Breeders Crown, American-National S., International Stallion S., Bluegrass S., Review S., Hayes Mem. S., Hanover Colt S., leg NJ Sires S.-Green Acres. At 3, winner Final American-National S., Dickerson Cup, elim. Stanley Dancer T., elim. Canadian Trotting Classic; second in Final Hambletonian, Final Canadian Trotting Classic, 2 heats World Trotting Derby, Yonkers T.; third in Breeders Crown, elim. Hambletonian.
---
| | |
| --- | --- |
| Breeding Activity Summary: CANTAB HALL | To purchase the complete Pathway report, click here |
First Yr.
Bred (MB*)
Last Yr.
Bred (MB*)
First Yr.
Foals (FR*)
Last Yr.
Foals (FR*)
Total Reg.
Foals
Gait
Total
Starters
Total
2:00
Total
1:55
Total
Earnings
2005 (173)
2021 (94)
2006 (111)
2021 (56)
1422
Trot
1027
651
212
$105,156,282
Pace
13
4
0
$ 100,549
*MB = Mares Bred, *FR = Foals Registered
---
Foundation Mare: MEDIO