Home > Stallion Showcase > Bettor's Delight
Stallion |
Sire of the Stallion
|
Dam of the Stallion
|
Crosses of Gold
|
Yearling Sales Results
|
Hypothetical Matings
Top Performers:
Current Year
|
Prior Year
|
All Time
BETTOR'S DELIGHT
P, 2,1:51.3s; 3,1:49.4m ($ 2,581,461)
Bay Horse. Foaled 1998.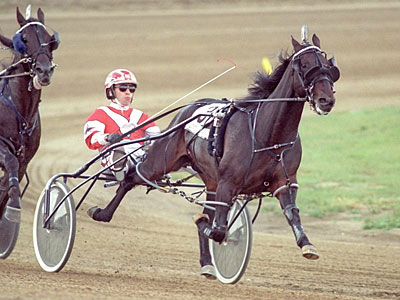 2023 Stud Fee: $20,000
Bettor's Delight Pedigree
Stud Fee in CDN Dollars
http://www.bluechipfarms.com/stallions/bettors-delight
Year
Age
Starts
1st
2nd
3rd
Earnings
2000
2
10
6
1
1
$ 804,661
2001
3
16
9
5
0
$ 1,776,800

---

$ 2,581,461

Pathway Customer?
click here to purchase
extended racelines infomation.
$$ A charge applies
Dan Patch, Nova, O'Brien 2-Year-Old Pacing Colt of the Year in 2000; O'Brien Horse of the Year; Dan Patch, O'Brien 3-Year-Old Pacing Colt of the Year in 2001. At 2, winner elim. and Final Breeders Crown at Mohawk, elim. and Final Governor's Cup, Nassagaweya S.; second in elim. Metro S. At 3, winner elim. and Final North America Cup, Final New Jersey Classic, Tattersalls P., heat Little Brown Jug, Simcoe S., elim. Meadowlands P., leg New Jersey Sires S. at Meadowlands; second in Final Meadowlands P., Oliver Wendell Holmes P., elim. Confederation Cup, elim. Breeders Crown at Woodbine, elim. New Jersey Classic.
---
| | |
| --- | --- |
| Breeding Activity Summary: BETTOR'S DELIGHT | To purchase the complete Pathway report, click here |
First Yr.
Bred (MB*)
Last Yr.
Bred (MB*)
First Yr.
Foals (FR*)
Last Yr.
Foals (FR*)
Total Reg.
Foals
Gait
Total
Starters
Total
2:00
Total
1:55
Total
Earnings
2002 (173)
2023 (116)
2003 (116)
2023 (57)
2629
Pace
2106
1712
1217
$329,198,703
Trot
10
2
1
$ 470,176
*MB = Mares Bred, *FR = Foals Registered
---
Foundation Mare: MOLLY DILLARD